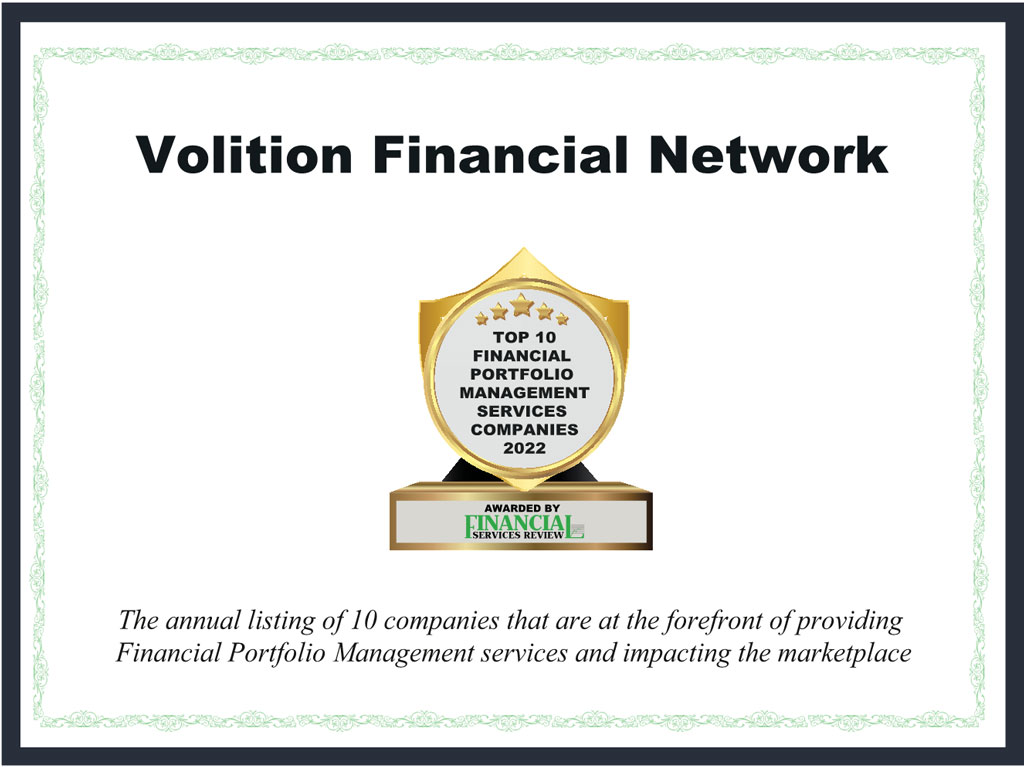 Boutique firm recognized for its tailored approach to alternative investment and retirement strategies
February 13, 2023 — Cleveland, Ohio — Volition Financial Network (Volition) has been recognized as a 2022 Top Financial Portfolio Management Services Company by Financial Services Review — a publication highlighting key trends and topics across the financial services industry.
Each year, Financial Services Review recognizes the top 10 companies that are at the forefront of providing Financial Portfolio Management services and impacting the marketplace. Volition was recognized in the Financial Services Review magazine and online in a profile spotlight.
"We're grateful to Financial Services Review for this recognition," said Volition President Michael Vitantonio. "It's a strong reflection of our distinct philosophy for each individual, small business, and nonprofit that comes to us for guidance — one where we factor in myriad criteria to create the ideal strategy specifically for that client."
Free from any custodial relationship that would impact its product and solution offerings, Volition Financial Network is able to employ an innovative, flexible approach to managing its clients' portfolios, maximizing returns, and mitigating risk. The result is a stronger investment strategy and retirement plan that leverages diversified assets in varied market environments that complement each other.
"Today more than ever, our clients need a disciplined approach to investing and planning for retirement," Vitantonio said. "From considering time horizons, income, and risk tolerance to balancing in qualitative aspects such as investing beliefs and expectations, every strategy we develop is founded in a strong understanding of our clients' goals. This award recognizes that, and we're excited to continue that philosophy for years to come."
About Volition Financial Network
Volition Financial Network is an independent boutique investment advisory firm providing investment and retirement solutions to individuals and small business owners. Volition Financial specializes in alternative investments and active portfolio management strategies.